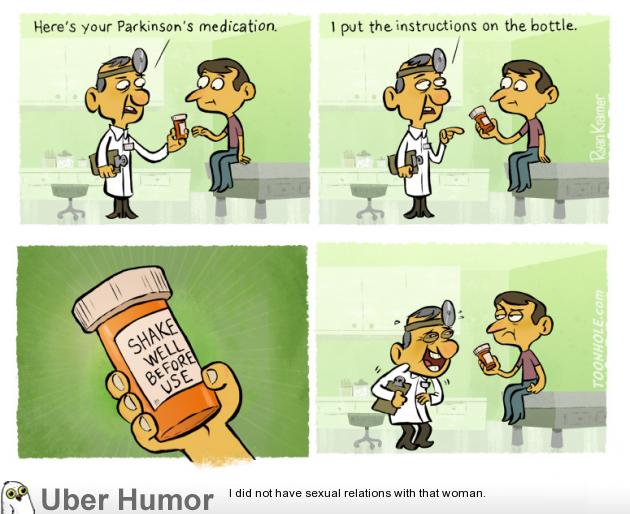 Source: http://uberhumor.com/parkinsons-disease
(Laughter is the best medicine, other than exercise.)
I first stumbled across Dr. David H. Blatt's website http://www.exerciseforparkinsons.com when I was searching for information about skiing and Parkinson's. He has a number of interesting videos on his YouTube channel. But, this video is on a YouTube Channel of his friend Mark Smith.
Check it out:
David has posted additional commentary on his website:
This web site is a work in progress. Eventually, I hope the Parkinson FIT website will become a resource and community dedicated to exercise, fitness and wellness for people with Parkinson's Disease.
Today, it is mostly a blog, collecting information of interest to the website's founder. Maintaining this website helps keep me inspired to fight Parkinson's, and hopefully it can help inspire others.
Like many of you, ever since I was diagnosed with Parkinson's, I've spent countless hours reviewing studies and research. There are some great ideas and great theories out there, and I remain hopeful that a cure can be found.
But if you study through the available research, especially the research involving humans, one trend is clear: For Parkinson's Disease, Exercise is the Best Medicine. And it is available today, without a prescription.
I believe that vigorous exercise can help with Parkinson's symptoms, and will help me live more years with an active lifestyle. There is growing evidence that exercise can affect more than just the symptoms, but that it can also slow down or halt the progression of PD.
Optimistic Best Case Scenario: Exercise promotes BDNF (Brain-derived neurotrophic factor) and neurogenesis creates new neurons in the PD effected regions. Or exercise encourages neuroplasticity and the brain creates new pathways to recover some lost functionality.
Reasonable Moderate Case Scenario: Exercise is neuroprotective and extends the life of remaining dopamine producing cells in the substantia nigra. Studies show an increase in GDNF (glial-derived neurotrophic factor), which reduces the vulnerability of remaining dopamine neurons to damage.
Pessimistic Worst Case Scenario: Exercise strengthens the muscles that Parkinson's Disease weakens, preserving your ability to lead an active lifestyle. Exercise can strengthen balance and aid in balance recovery, preventing falls.
I created this website to share what I've learned and what I am learning, and to learn and share information and community with others.