I've never understood the phrase "dog days of summer". But clearly, with record temperatures across the US and Europe, we find ourselves in the midst of these dog days. Consequently, as I found myself spending a little more time inside this week to take advantage of air conditioning, I thought I'd use Google to find out why we refer to the hottest days of the summer as "dog days of summer".
I was sadly disappointed to find out that the general consensus was that this phrase originated with either the Greeks or the Romans, and was a reference to the star Sirius, also known as the "dog star", rising and setting around the same time as the sun during the mid-summer. No offense intended to the ancients, but I don't think a phrase like this could survive for 2,000+ years based on this reason.
Dogs have done an excellent job training and conditioning humans over the years. They live a comfortable life of leisure, funded at our expense. Don't get me wrong, I love dogs…especially my manipulative dog, but on the whole, they are lazy, and they tend to pant a lot after the slightest bit of exertion. It just makes sense that the dog days of summer are when everyone feels like a dog, the slightest bit of exertion leaves you out of breath, and you just want to lie around and be lazy like a dog.
This is why people use the expression "dog days of summer". And this is my excuse for sharing pictures of my dog, as it sure beats babbling on and on about Parkinson's nonsense.
Hopefully the air conditioning works in your local gym, as there is a distinct possibility that I am crazy from the heat, and in need of medial attention.
With that diversion behind us, let's discuss Parkinson's news and information that caught our attention this past week:
It seems that every week, another research study provides additional insight into the gut-brain connection, and the (increasingly likely) possibility that Parkinson's disease begins in the gut. What does this mean? It is important to keep in mind that most of the discussion on this topic is theoretical, and we're probably in over our head, but we've attempted to explain where the theory comes from, and highlighted a few of the more interesting research studies that are exploring the connection. We call it "Food for Thought":
http://parkinson.fit/food-for-thought-parkinsons-and-the-gut-brain-connection/
Conventional wisdom holds that well more than half of our dopamine-producing neurons are dead by the time Parkinson's is diagnosed. Gavin Mogan figures after 11 years he must be down his last 5%, and he's asking those remaining neurons to give him 110%. You should watch the video, but he seems to use a combination of music therapy and meditation to summon up dopamine when he really needs it.
http://parkinson.fit/my-last-5-are-giving-me-110/
Held annually since 2012 in Copenhagen, Denmark, the Ray Kennedy Cup is an international football (soccer) tournament for people with Parkinson's. Organizers expect this year's tournament on August 31, 2019 to feature 10-14 teams from Denmark, Norway, Sweden, England and Scotland. There is still time to register if you have a team that is interested, with registrations accepted through August 1.
http://parkinson.fit/ray-kennedy-cup-parkinsons-football-tournament/
RAGBRAI, the Des Moines Register's Annual Great Bicycle Ride Across Iowa, took place last week, and the newspaper has a feature on Dr. Jay Alberts and Davis Phinney. Back in 2003, Dr. Alberts was riding a tandem bicycle with a Parkinson's patient, when they made a chance discovery that riding actually reduced her Parkinson's symptoms…a discovery which eventually led researchers to better understand the role of exercise in controlling PD symptoms.
https://www.desmoinesregister.com/story/news/local/columnists/courtney-crowder/2019/07/24/ragbrai-davis-phinney-promotes-discovery-led-important-parkinsons-research-cleveland-clinic/1821852001/
P.S. – If you haven't seen the presentation we put together on exercise intensity, vigorous exercise and forced exercise, we provide more detail on those bicycle studies.
http://parkinson.fit/exercise-intensity/
PD Technology & Wearables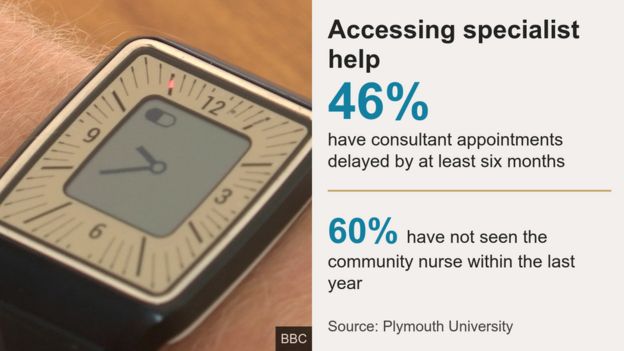 BBC News reports on a smartwatch-style device that tracks patient's movements, and is being hailed as "the future of Parkinson's care." The Personal Kinetigraph (PKG) monitors tremors and other symptoms, potentially enabling doctors to spot problems remotely. Researchers believe the watch could help to ease pressure on over-stretched health services. We're not sure if the designers were attempting to be ironic with the retro styling of the device, or if they've never seen an actual smartwatch before, but we think we can safely say that the device is not going to start a new fashion trend.
https://www.bbc.com/news/uk-england-devon-49075253
Research News
Researchers in Canada are working to identify the specific pain relieving molecules in marijuana. Known as "flavonoids," cannflavins A and B were first identified in 1985, when research verified they provide anti-inflammatory benefits that were nearly 30 times more effective gram-for-gram than aspirin. "The problem with these molecules is they are present in cannabis at such low levels, it's not feasible to try to engineer the cannabis plant to create more of these substances," said researcher Stephen Rothstein from the University of Guelph. "We are now working to develop a biological system to create these molecules, which would give us the opportunity to engineer large quantities." The research team has partnered with a Toronto-based company, Anahit International Corp., which has licensed a patent from the University of Guelph to biosynthesize cannflavin A and B outside of the cannabis plant.
https://neurosciencenews.com/cannabis-pain-relief-14564/
An international team of researchers led by Jay Schneider, PhD, a professor in the department of pathology, anatomy and cell biology at Thomas Jefferson University, report new information that may in part explain how a molecule called GM1 ganglioside protects the brain against major features of Parkinson's disease. Dr. Schneider has been investigating the therapeutic potential of GM1 in Parkinson's disease for nearly 30 years. In previous research, he and colleagues showed that Parkinson's patients have less GM1 than healthy patients in the part of the brain most affected by Parkinson's, called the substantia nigra. In the new work, Dr. Schneider and colleagues show that giving daily GM1 doses to animals that overproduce alpha-synuclein inhibits the toxic effects of the protein.
https://www.eurekalert.org/pub_releases/2019-07/tju-mra072419.php
A new study has shown that gentle, controlled stimulation of the ear canal can help reduce symptoms of Parkinson's disease. The randomised, controlled study, led by the University of Kent, UK, showed that twice daily stimulation for two months was associated with a significant reduction in both motor and non-motor features of Parkinson's disease. Participants reported greater movement and mobility, and also showed improvements in decision-making, attention, memory, mood, and sleep. Participants also said that by the end of the study they found it easier to perform everyday activities by themselves.
https://www.sciencedaily.com/releases/2019/07/190724103940.htm
Think twice before adding that extra kick of chili sauce or chopped jalapeno to your meal. Spicy food lovers may be at greater risk of dementia than those who prefer more bland foods. A 15-year study reveals those who ate more than 50 grams of chili a day had an increased risk of cognitive decline as they aged. The memory decline was more significant in those with a lower BMI.
https://neurosciencenews.com/spicy-food-dementia-14556/
This is about ALS rather than PD, but is interesting nonetheless. A friendly gut bacterium can help lessen ALS symptoms, a study of mice suggests. Mice that develop a degenerative nerve disease similar to amyotrophic lateral sclerosis (ALS), or Lou Gehrig's disease, fared better when gut bacteria making vitamin B3 were living in their intestines, researchers report July 22 in Nature. Those results suggest that gut microbes may make molecules that can slow progression of the deadly disease.
https://www.sciencenews.org/article/boosting-gut-bacterium-helps-mice-fight-als-disease
Inspiring People with PD
'I got Parkinson's at 41, now I'm an international footballer' – Jonny Acheson realised something wasn't right – then he got a shock Parkinson's diagnosis. He was just 41. But now, the 44-year-old is training to play in an international football tournament with his fellow teammates who also have the condition.
https://www.leicestermercury.co.uk/news/leicester-news/i-diagnosed-parkinsons-41-now-3078273
Parkinson's Life talks to Ray Wegrzyn, founder and chairman of Parkinson's EQUIP, a UK charity that gives grants to people with Parkinson's so that they can improve their quality of life through sport and the arts. After being forced to retire because his Parkinson's symptoms became unmanageable, Ray explains how setting up the charity 'filled the gap' in his life.
https://parkinsonslife.eu/ray-wegrzyn-parkinsons-equip/
"I'm trying to be the Stephen Hawking of Parkinson's". A rather bizarre analogy, but Walter J Archey III, who raps under the name Tahiti, is pioneering "rap therapy", and is on a mission to be known as "the liveliest dude with Parkinson's in the world". He's interviewed by Parkinson's Life:
https://parkinsonslife.eu/walter-archey-tahiti-parkinsons-rapper/
Also Worth Noting
The Parkinson's Foundation has two new items that may interest you:
1. Talking to Your Employer About PD: Disability Inclusion and Accommodation at Work. 2. What is a Facebook Fundraiser? … And how you can use it to raise money to combat PD.
https://www.parkingsuns.com/2019/07/23/two-items-from-the-parkinsons-foundation/
The Parkinson Resource Center at Louisiana Tech University is growing to offer more resources for people with Parkinson's Disease. After the success of the Rock Steady Boxing class, they're looking at bringing Dance for PD to Ruston, Louisiana:
https://www.knoe.com/content/news/Louisiana-Techs-Parkinson-Resource-Center-bringing-more-resources-to-the-area-513026621.html
It was all started as a passion project for Dr. Michael Braitsch while he was in school at University of Texas Southwestern. It was supposed to be just a 10-week program and study using boxing to help Parkinson's Disease, but it was so successful that others encouraged him to continue the program once he graduated. Find out more about Tribe Wellness in Richardson, Texas in this local Fox 4 news report from Dallas:
http://www.fox4news.com/good-day/therapist-leads-boxing-study-for-parkinson-s-patients#/
Laughter is the best medicine: A few years ago, Northwestern University did a study of improvisation theater as a Parkinson's therapy. This is the inspiration for a traveling program, Improv to Improve Parkinsons:
http://www.bosmovie.com
Deep Brain Stimulation – The inspiring story of how DBS helped Tino Flores regain his freedom and family.