Social media users in India were abuzz the past few weeks over a video posted on Facebook by Nanavati Super Specialty Hospital (yes, that is the hospital's real name)  that showed the results of an apomorphine infusion on a 50-year old patient with advanced Parkinson's Disease. Before the treatment, the patient was barely able to lift his arms and struggled to walk. After the apomorphine injection, the patient was able to walk and run, and even do push-ups.
Apomorphine is a very strong dopamine agonist.
The video fails to show that the drug's effect only lasts for an hour or two, and that patients who take this drug are usually fitted with a pump to allow continuous delivery, or they use a pen to inject themselves multiple times a day. After complaints from the Movement Disorders Society of India, the hospital removed the video from its Facebook page. However, the Mumbai Mirror has posted a graphic explaining what was in the video: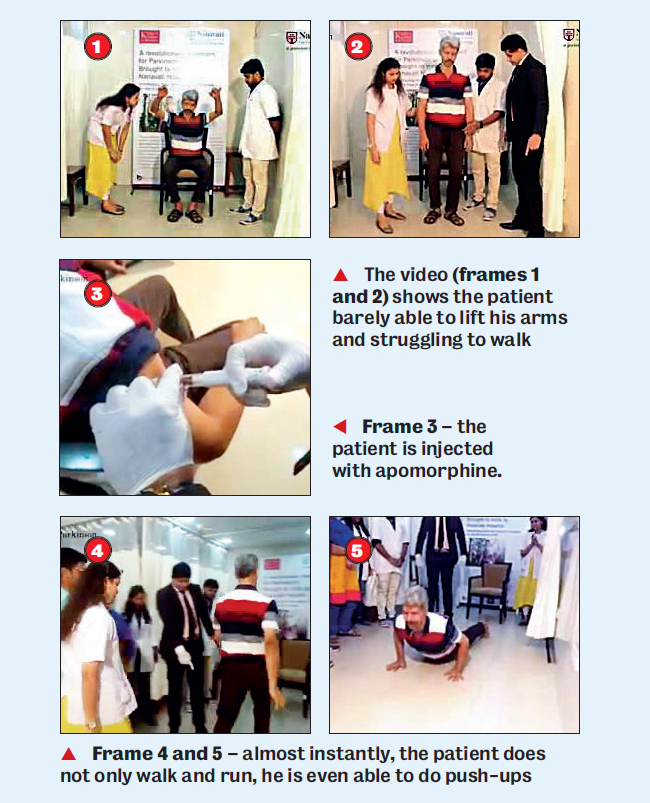 More coverage from the Mumbai Mirror can be found here: https://mumbaimirror.indiatimes.com/mumbai/cover-story/docs-object-to-nanavati-pushing-drug-as-panacea-for-parkinsons/articleshow/68294541.cms
Related coverage can be found in the Times of India: https://timesofindia.indiatimes.com/india/doctors-body-refutes-mumbai-hospitals-claim-says-there-is-no-magical-cure-for-parkinsons-disease/articleshow/68300282.cms
It is  understandable that objections were raised to this video. Apomorphine is not a miracle cure, or miracle treatment for Parkinson's Disease. But imagine how this felt to the patient in the video, Sharang Pandit, 50, an Aeronautical Engineer and Stage Show artist, who has been suffering from PD for 16 years. He is quoted as saying:
For me, it is an incredible treatment. Before this I was leading almost handicapped life for last 16 years.  This revolutionary treatment gives new hope to thousands of people like me who are suffering from Parkinson's. It should be available to everyone in the country.

I was very disappointed with my condition and never thought I would be able to lead a normal life again. But my will to make a change was always there. I have recently invented a Harmonium which can be played by person with disability or a Parkinson's patient like me.
Source: https://indiansaroundtheworld.wordpress.com/2019/02/23/nanavati-hospital-offers-a-revolutionary-treatment-for-patient-suffering-from-parkinsons-disease/
While apomorphine is new to India, it is not s new drug. It has been around for years, and is prescribed in the US, UK and Australia, among other countries. What is relatively new is the self-administered pen option. (An oral, under the tongue formulation also recently completed a phase 3 trial, but has not yet received FDA approval.)
Apomorphine is an option in cases of more advanced Parkinson's, when patients have severe problems with off periods.
The sad reality is that many Parkinson's sufferers are under medicated. There are likely other dopamingeric medications that would have been more appropriate for this patient. I am often amazed by how many people I encounter who take a small dose of carbidopa/levodopa 3 or 4 times a day, but have movement issues that could likely benefit from a higher dose.
I'm not a doctor, just a patient, but if I were considering apomorphine, I would look at Duopa first, which is pump delivery of carbidopa/levodopa, as opposed to apomorphine, which is a dopamine agonist and more prone to side effects.
But, don't listen to my advice. Instead, I would recommend starting with advice from the Parkinson's Foundation and Parkinson's UK, and then consulting your doctor.
Parkinson's Foundation: https://www.parkinson.org/blog/whats-hot/Choosing-Between-Subcutaneous-Apomorphine-Infusions-Intestinal-Pumps-Duopa-and-Deep-Brain-Stimulation-TOLEDO-Trial
Parkinson's UK: https://www.parkinsons.org.uk/sites/default/files/2018-03/FS26%20Apomorphine%20WEB.pdf